Drivers of Food Choice
The purpose of the Drivers of Food Choice program is to facilitate, synthesize and disseminate research to provide a deep understanding of the drivers of food choice among the poor in developing countries. DFC projects also aim to strengthen country-level leadership in nutrition and foster a global community of food choice researchers.
Food Choice Defined
Food choice involves the processes by which people consider, select, prepare, distribute, and consume foods and beverages. The overarching question addressed in studies of food choice is, "why do individuals eat the foods they do?" Food choice behaviors are integral to social and economic expression of identities, preferences, and cultural meanings and ultimately influence nutrient intake and health. Drivers of food choice include interconnected biological, psychological, economic, social, cultural, environmental, and political factors. Influencing food choice involves efforts to promote and facilitate the purchase, provision, and consumption of healthier foods of individuals, families and communities and includes emphasis on food environments.
DFC Competitive Grants Program Research Portfolio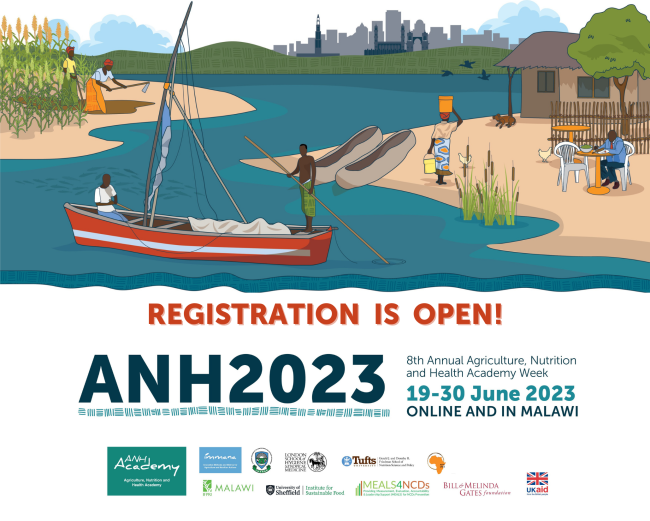 The 8th annual Agriculture, Nutrition & Health Academy Week will take place from 19 to 30 June 2023, online and in Lilongwe, Malawi. The programme will feature online Learning Labs followed by a full hybrid conference in Lilongwe. We invite the global community of researchers and research users to participate in this event. 
The format is as follows:
19 – 21 June 2023: Learning Labs (online only)
26 June 2023: Learning Labs (In-person only in Lilongwe)
27 – 30 June 2023: Research Conference (in-person in Lilongwe and online)
Registration is now open. Register at the link below.
Drivers of Food Choice Webinar Series 
In collaboration with the Drivers of Food Choice program, the ANH Academy hosted a webinar series starting in January to showcase important findings that have emerged from the DFC portfolio regarding drivers of individual and household food choice in changing food environments and foster discussion around next steps for scale-up and application of insights and innovations from the portfolio. The series included one session per month for four months, from January to April 2021. 
This is the Drivers of Food Choice Website. We do not currently collect any information from visitors to this site except the information contained in standard web server logs (your IP address, referrer, information about your web browser, information about your HTTP requests, etc.) and information you voluntarily provide when reaching out to us through the contact information provided. E-mail addresses and personal information given to us will not be shared with outside parties. The information in these logs will be used only by us and the server administrators for website, traffic analysis and system administration, and for improving this site. It will not be disclosed unless required by law. We may retain these log files indefinitely.
Some resources within this site are links to external websites (not hosted by the DFC website) and are provided as a convenience to the user. We believe that these links are informative and relevant to the program. Once you link to another site, you are subject to the disclaimers and security and privacy policies of the new site.