Shilpa Constantinides, DFC Program Coordinator, summarizes a busy summer for the project team and subgrantees.
By Shilpa Constantinides, MPH
Summer of 2018 has been busy for the Drivers of Food Choice team! All 15 projects are now underway, and we are finding ways to bring people together to share and learn from each other.
In June, representatives from all 15 projects met at the Agriculture, Nutrition and Health Academy Week in Accra, Ghana. During ANH Academy Week, many subgrantees and members of the Technical Advisory Group presented their DFC work in oral or poster presentations (see list at end of blog for links to presentations).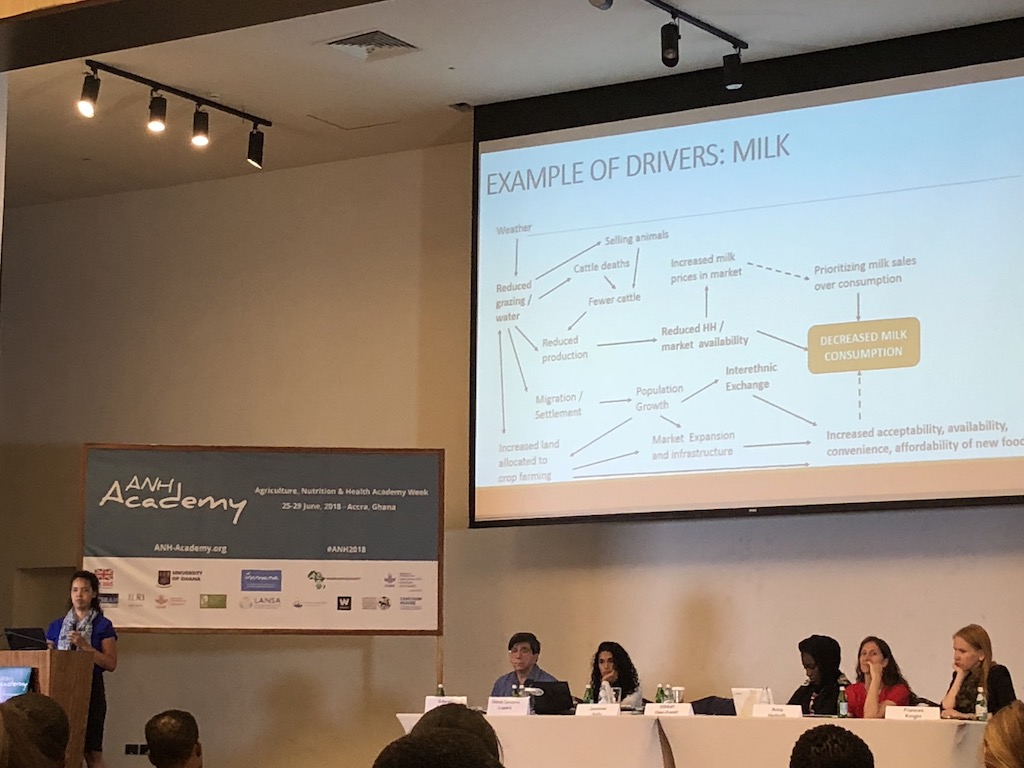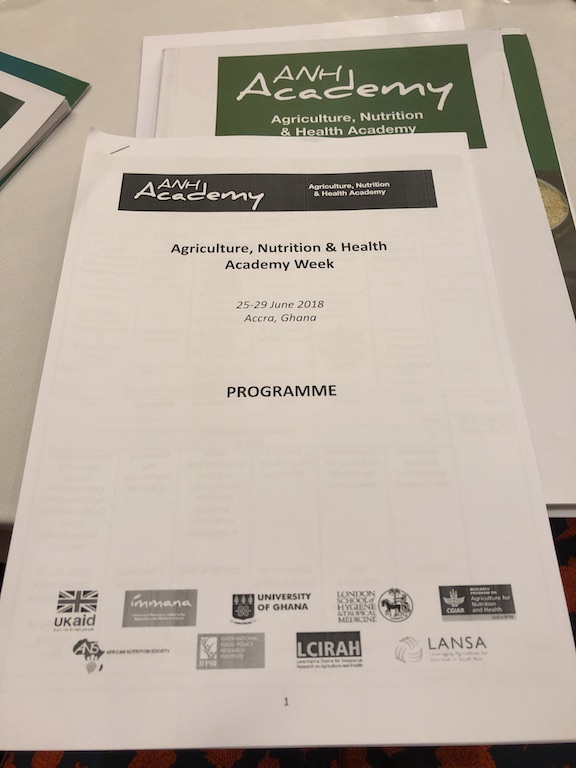 Dr. Edward Frongillo (sitting, L) chairs one of the sessions on Drivers of Food Choice at ANH Academy Week 2018.
DFC Principle Investigators, Dr. Christine Blake and Dr. Edward Frongillo, chaired concurrent sessions that featured research focused on drivers of food choice.
The DFC Competitive Grants Program held a well-attended Learning Lab titled "Drivers of Food Choice Behavior", during which participants learned about frameworks for understanding drivers of food choice and practiced determining policy and program actions to alter specific food choice behaviors.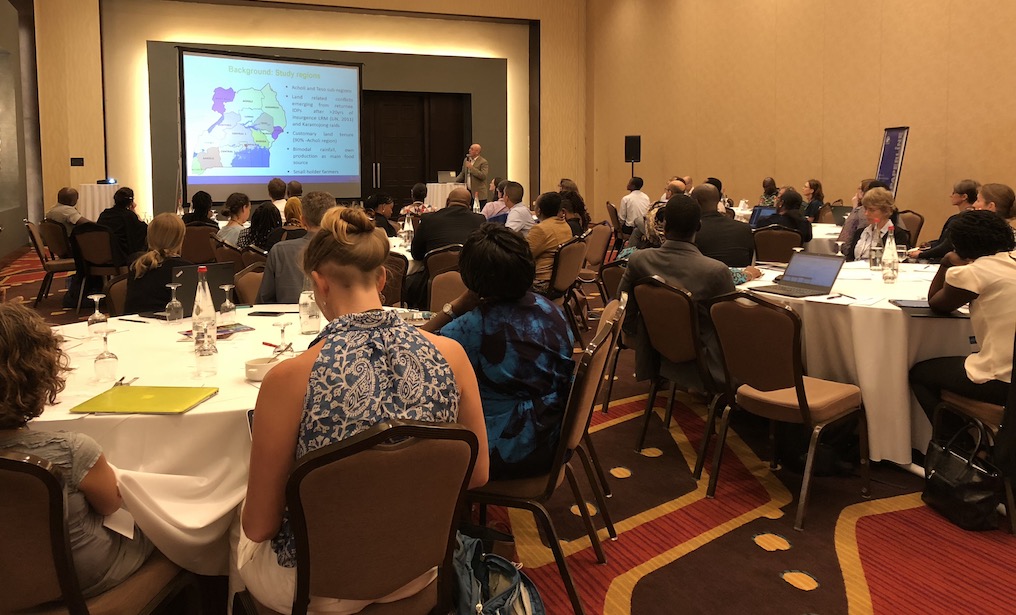 DFC also hosted a meeting for all subgrantees, which provided a time for teams from all projects to come together, share ideas and experiences, and discuss opportunities to learn from each other and create new knowledge about the drivers of food choice in LMIC's. The participants formed working groups and agreed to continue these collaboration beyond the meeting to bring ideas and proposed projects to fruition. This was our first in-person meeting and proved to be a great start to building a community of practice in DFC research.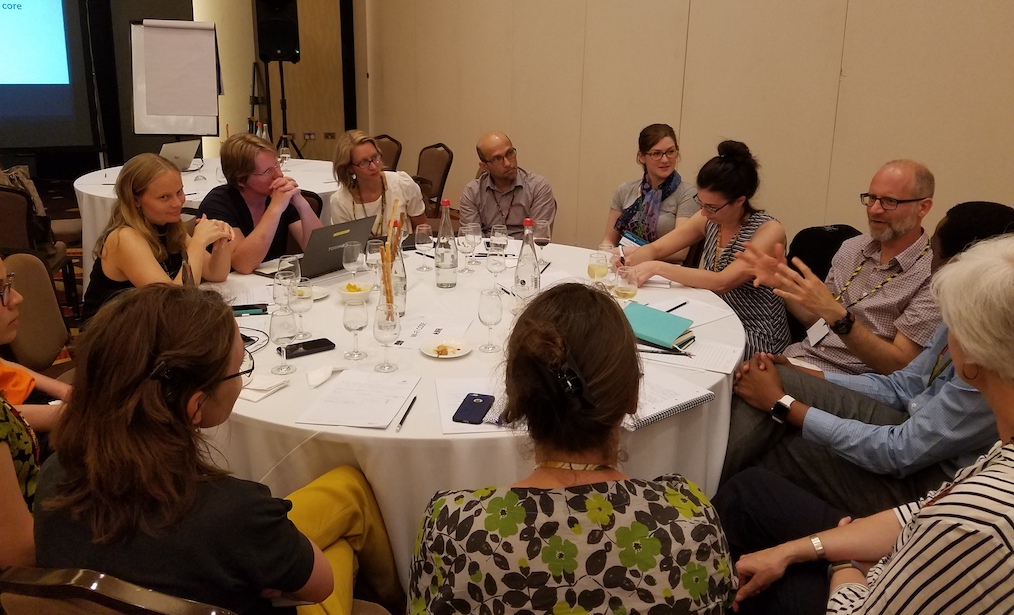 Academy Week was very busy and a fantastic opportunity to develop relationships with other researchers and learn about the exciting research being done in this field. Thank you from the DFC team to all who attended ANH Academy Week!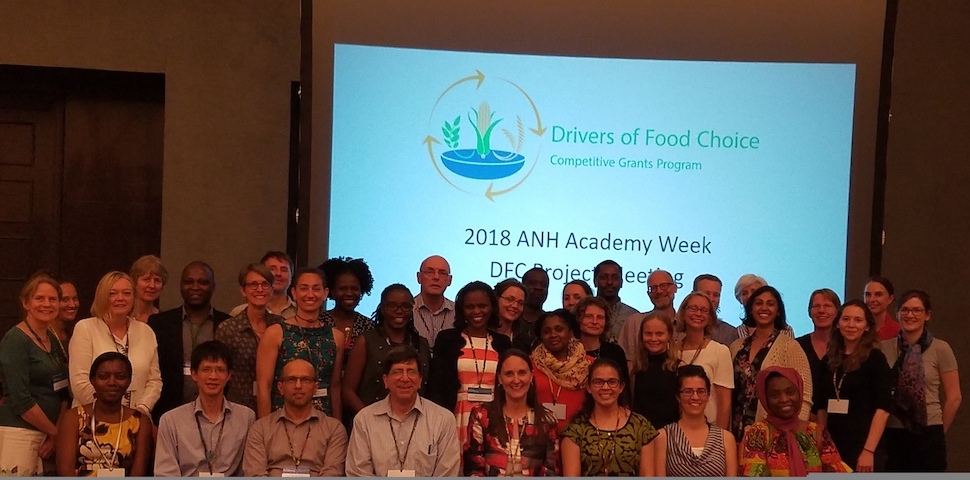 List of DFC presentations at ANH Academy Week 2018
ORAL PRESENTATIONS
Jacob Mazalale – Designing a discrete choice experiment to understand food choice based on maize price variations in rural Malawi
Sigrid Wertheim-Heck – Food safety and nutrition for the urban poor – exploring the social justice policy dilemma of consumption 
Amy Webb Girard – Understanding the drivers of diet change and food choice among Tanzanian pastoralists
Michelle Holdsworth – Dietary transitions in Ghanaian cities: using innovative methods to map the social and physical food environments that drive consumption of unhealthy foods and beverages, to identify contextually appropriate policies and interventions: the DFC Dietary transitions in Ghana study 
POSTER PRESENTATIONS
Understanding systemic drivers of food choice to identify entry points for nutrition-sensitive interventions in eastern India. By Rosa Paula Cuevas, Marie Claire Custodio, Jhoanne Ynion, Arindam Samaddar, Suva Kanta Mohanty, and Matty Demont (presenter).
A food preference checklist for women in Malawi: Method development and results. By Chrissie Thakwalakwa Kantukle, Valerie L. Flax (presenter), John C. Phuka, and Lindsay M. Jaacks.
Social and physical drivers of food choice: a participatory Photovoice project in two Ghanaian cities: a DFC Dietary transitions in Ghana study. By Pradeilles, R. (presenter), Laar, A., Zotor, F., Tandoh, A., Klomegah, S., Osei-Kwasi, H., Bohr, M., Green, M., Bricas, N., Holdsworth, M., Griffiths, P.
Impact of agricultural input subsidy programmes in Malawi on end-points in the causal pathway to nutrition and related health: A systematic review. By Pradeilles, R. (presenter), Laar, A., Zotor, F., Tandoh, A., Klomegah, S., Osei-Kwasi, H., Bohr, M., Green, M., Bricas, N., Holdsworth, M., Griffiths, P.
Comparing individual and household dietary diversity measures: Experience from fieldwork in rural Malawi. By Mirriam Matita (presenter), Helen Walls, Jacob Mazalale, Ephraim Chirwa, and Deborah Johnston
Does household participation in food markets increase dietary diversity? Evidence from rural Malawi. By Ephraim Chirwa (presenter), Deborah Johnston, Jacob Mazalale, Mirriam Matita, and Helen Walls
Pocket money spending patterns of adolescents in South India. By Solveig A. Cunningham (presenter), Shailaja Patil, and Nida Shaikh
Impact of school gardens on nutrition outcomes in developing countries. By Schreinemachers, P. (presenter) & Yang, R.-y.
The feasibility and acceptability of information and communication technologies (ICTs) for collection of diet and time use data. By Andrea Spray (presenter), Jan Priebe, Gwen Varley, Joweria Nambooze, Kate Wellard, and Elaine Ferguson