By Krystal Rampalli, MPH, and Sigrid Wertheim-Heck, Ph.D.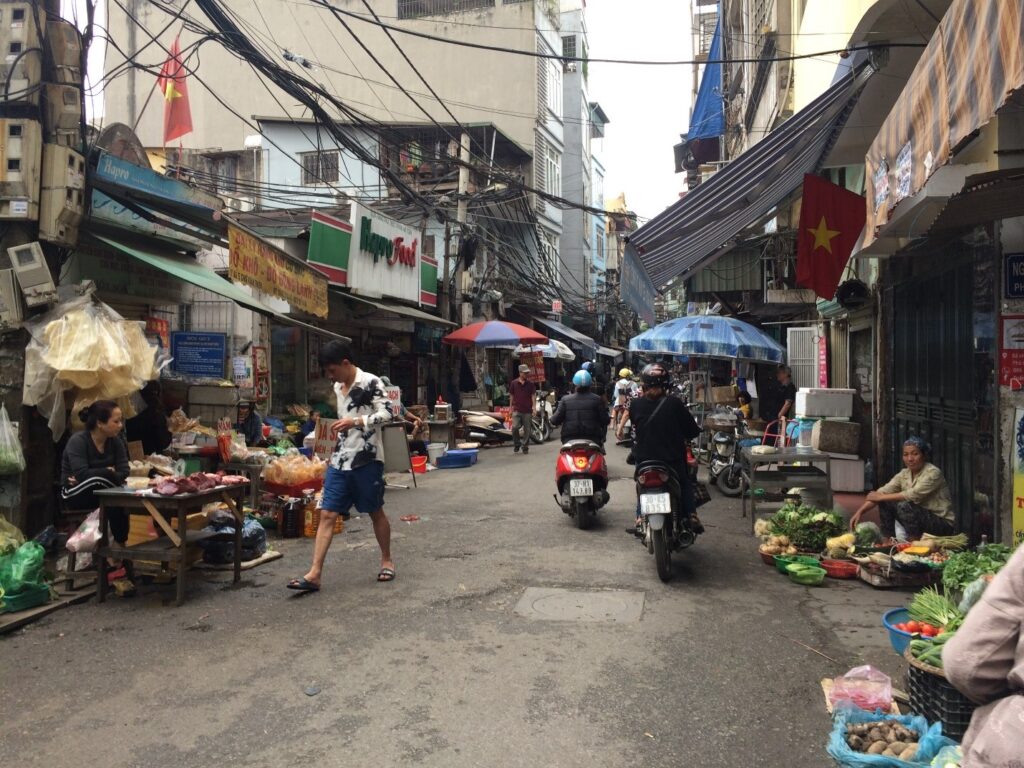 A glimpse of the outdoor food environment in Hanoi, Vietnam.
(photo credit: Sigrid Wertheim-Heck)
Overview
Dr. Sigrid Wertheim-Heck was the Principal Investigator on a Drivers of Food Choice project based in Hanoi, Vietnam. She and her team studied how retail modernization policies have altered food environments and subsequently, food choices of the urban poor. They concluded their research in late 2018. The following provides a summary of the interesting findings that emerged from their work.
Two main questions were addressed in this mixed-method study: First, with modernizing retail food environments, what drives food choice among the urban poor of Hanoi? Second, what are the daily shopping practices of the urban poor and how do these practices affect their dietary intake?
The research focused on the perspectives and experiences of women, who are the ones who primarily shop and cook for the family unit.
Background
The study took place in two inner-city districts of Hanoi. 40% of the city's population is classified as "urban poor" – those earning an average daily income of ~$3.84 USD. They often spend ~41% of their household income on food (Wertheim-Heck and Raneri, 2019).
The Hanoi food environment is populated with a wide variety of retail formats. For example, there are:
Traditional wet markets that are formally organized and managed open air-covered fresh food market spaces
Informal, self-organized, neighborhood food markets that are typically run by independent vendors
Ambulatory street vendors
Chain supermarkets
Chain convenience stores that are part of larger food retail corporations
Mom-and-pop stores, family owned convenience stores
Currently, Vietnam's retail modernization policies (called "supermarketization") seek to scale up supermarket development while simultaneously reducing the proliferation of traditional outlets (i.e., wet markets). These policies were implemented due to pressure from consumers at all income levels who are concerned about the safety of fresh produce (particularly from the widespread use of chemicals in agriculture).  Modern retail outlets such as supermarkets may be better situated to assuage public concerns about food safety through their implementation of management systems such as certification, labeling, and inspections. Traditional food outlets usually cannot offer the same food safety guarantees.
Although the scientific evidence regarding food safety among modern retail outlets is limited, the Vietnamese media strengthens the narrative that modern retail outlets provide safer food than the traditional markets (Wertheim-Heck and Raneri, 2019).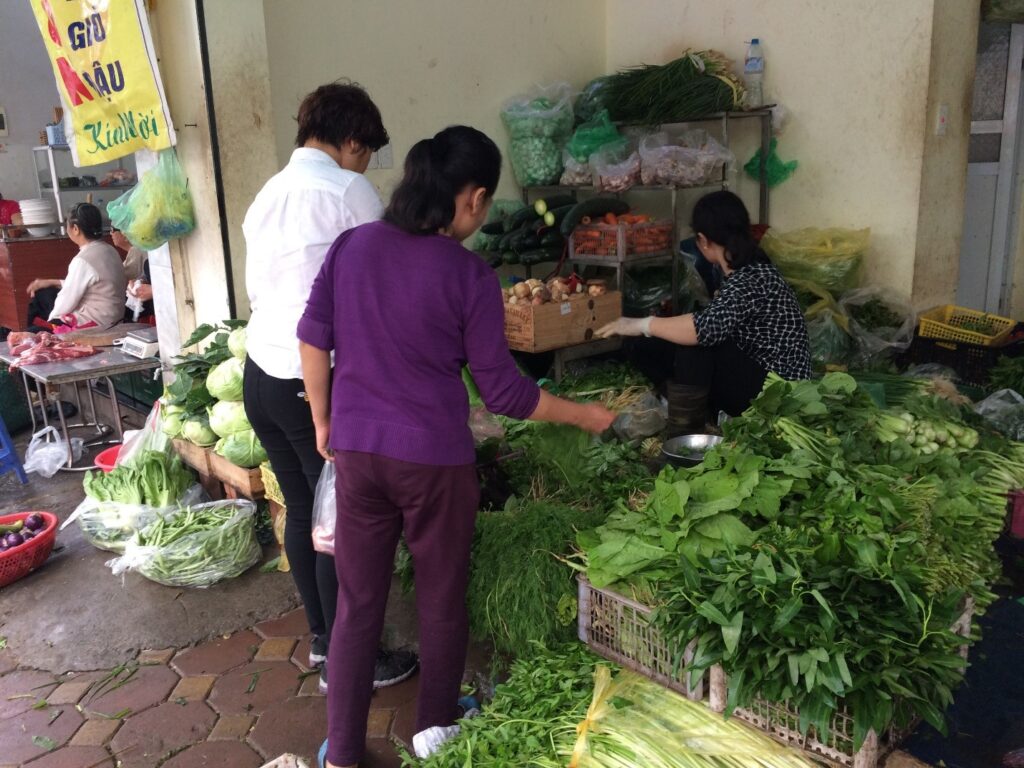 Customers interacting with a vendor at one of Hanoi's traditional wet markets.
(photo credit: Sigrid Wertheim-Heck)

Key Findings
Hanoi's urban poor greatly depend on traditional outlets to supply their households with fresh and nutritious foods at affordable prices. This study found that modern retail outlet shopping is not preferred by Hanoi's urban poor.
One of the major consequences of Vietnam's supermarketization policies is the exacerbation of food access inequality through "food gentrification." As supermarket corporations generally target high- or middle-income neighborhoods, many of the lower income areas where the urban poor reside are left out (Wertheim-Heck, Raneri, and Oosterveer, 2019). If Vietnam's retail modernization policies continue to increase the proliferation of chain supermarkets/convenience stores and prevent informal/traditional markets from remaining in business, the minimally nutritious diets of the urban poor may be threatened.  Supermarkets and convenience stores offer more ultra-processed food options, generally defined as consumable items that contain long ingredient lists and additives such as artificial colors and flavors, added sugars, salts, stabilizers, and preservatives. Many ultra-processed foods come in attractive packaging and usually are ready-to-eat or require minimal preparation. They tend to be lower cost and often more palatable than their fresh, unprocessed counterparts (Monteiro, et al., 2016). Globally, modern retail outlets have been strongly associated with consumption of ultra-processed food.  In this study, the team found that of all ultra-processed foods consumed, 84% originated from supermarkets and convenience stores. Furthermore, they found that among the urban poor study participants, 70% of all foods consumed came from both formal and informal traditional markets. These venues only contributed to 7% of the total of processed foods.
Interestingly, the study results indicate that even when supermarkets are near their residences, 98 % of the 400 study respondents reported that they still shop at traditional retail outlets (wet and informal markets). Some of their major reasons cited include: habit (100%), the wide assortment of foods offered (99%), proximity to home (98%) and enjoyment of shopping at traditional markets (97%). Other reasons for shopping at traditional markets were the availability of a wide variety of fresh nutritious foods (86%), low prices (80%), and perceptions of safer food (77%).  Urban poor participants believed produce from the traditional food markets was safer because they could obtain seasonal produce from known sources (Raneri and Wertheim-Heck, 2019).
Another important finding of this study was regarding the intergenerational attitudes and beliefs toward shopping practices and retail modernization. Historically, older generations faced food shortages and fewer affordable food options. Concern about food safety may not have been as common. One older study participant said "Food was little, but we didn't worry about food safety. Now food is abundant, but we do have to worry about food safety." Nowadays, younger generations living in the same households reported being less concerned about food safety and more concerned with convenience. Daughters and daughters-in-law felt that supermarkets were not convenient because they can be time or cost prohibitive, and they felt more comfortable with their relationships with traditional market vendors. In this case, the younger generation's drivers of food choice center around their access to food within their environments and their relationships with vendors.
Finally, the researchers found that children may be increasingly influencing the food choices of the household. In the interviews, many of the participants representing older generations reported believing that if children can choose what they want to eat, they will like what they eat and will eat more and grow better. The emphasis on ensuring children to eat enough is likely rooted in messages received through prior interventions to address historically high rates of childhood undernutrition in Vietnam. Public recognition of the importance of nutrition for healthy child growth and development may center on messages about increasing quantities, rather than food quality. However, as the Vietnamese food environment changes, children's food preferences are also changing. While fast food or sit-down restaurant food is still cost-prohibitive for the urban poor, the researchers found that many households have started cooking similar unhealthy food items (e.g., "homemade KFC") rather than the traditional Vietnamese dishes that have higher nutritive value. Furthermore, children will often ask their elders for treats such as sugar-sweetened beverages, which are more affordable for the parents but have contributed to the rising rates of obesity and diet-related chronic diseases in Vietnam (Wertheim-Heck, 2019).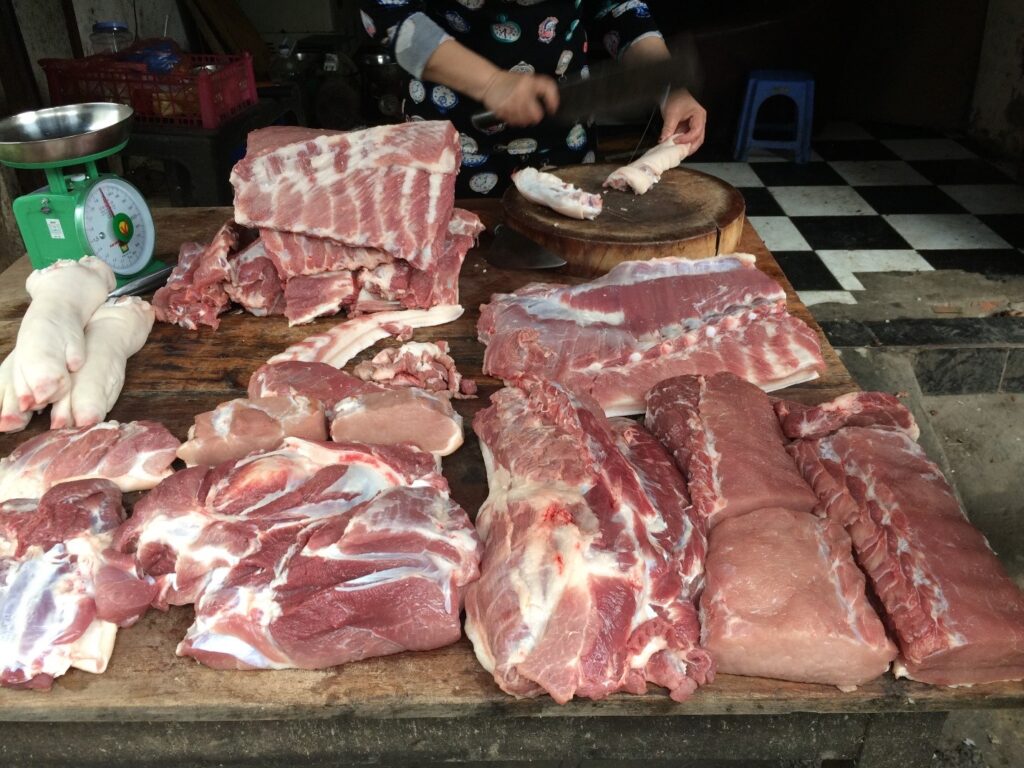 Traditional markets are a great place to obtain fresh cuts of meat in Hanoi.
(photo credit: Sigrid Wertheim-Heck)

Implications
Communities in low- and middle-income countries around the world are experiencing changes in their food environments similar to those observed in Hanoi. This includes the rapid expansion of market-based options that often leads to potential changes in food choice processes and subsequent health outcomes. This study sheds light on what drives food choice behaviors that impact dietary intake and ultimately health, providing key evidence for the development of policies and programs that are responsive to changing food systems and food choice behaviors.
Dr. Wertheim-Heck's project provided a glimpse into how retail modernization policies could jeopardize the dietary quality for the urban poor through two major pathways: depriving access to fresh, nutritious foods and stimulating less healthy diets by increasing consumption of ultra-processed foods. Without considering the food shopping practices of residents, especially of the poor, transforming food environments through policies might result in undesired outcomes in terms of dietary intake and disease.
Additional Readings and Resources
For more insights into Dr. Wertheim-Heck's findings, check out the most recent resources from her team:
Acknowledgements
This research has been funded by the Drivers of Food Choice (DFC) Competitive Grants Program, which is funded by the UK Government's Department for International Development and the Bill & Melinda Gates Foundation, and managed by the University of South Carolina, Arnold School of Public Health, USA.
The "Retail Diversity for Dietary Diversity: Preventing nutrition deserts for the urban poor within the transforming food retail environment in Vietnam" project was delivered by Fresh Studio Innovations Asia, in partnership with the Environmental Policy Group of the Wageningen University and Research, Netherlands, Food Synectics, and Bioversity International.
Blog Contributors
Krystal Rampalli, MPH, is a Ph.D. student in Health Promotion, Education, and Behavior at the University of South Carolina's Arnold School of Public Health. She is a Research Assistant for the Drivers of Food Choice Competitive Grants Program. Her research interests are in adolescent health, nutrition, and non-communicable diseases with an emphasis on the changing food environments and food choices in low- and middle-income countries that are undergoing the nutrition transition.

Sigrid Wertheim-Heck, Ph.D., is a Professor of Food and Healthy Living at Aeres University of Applied Sciences and Senior Research Fellow at the Environmental Policy Group at Wageningen University, both in the Netherlands. Her interest in global urban food security informs her research agenda on the relationship between metropolitan development, food provisioning and food consumption. With a background in consumption sociology, her main areas of interest include everyday consumption practices and equitable access to sustainable, safe and healthy foods, including the role of retail.
References
Fresh Studio. (2018, October 30). Retrieved March 02, 2019, from https://www.youtube.com/watch?v=3ZiZ2xSvffY
Monteiro CA, Cannon G, Levy R, Moubarac J-C, Jaime P, Paula Martins A, Canella D, Louzada M, Parra Also with Camila Ricardo D, Calixto G, et al. NOVA: The Star Shines Bright. World Nutr [Internet]. 2016;7:28–38. Available from: http://archive.wphna.org/wp-content/uploads/2016/01/WN-2016-7-1-3-28-38-Monteiro-Cannon-Levy-et-al-NOVA.pdf .
Popkin, B. (2017, June). The Nutrition Transition and Global Food System Dynamics: The Accelerating Speed of Change and Global Challenges We Face for Creating a Healthier Global Diet. Retrieved March 5, 2019, from https://www.who.int/nutrition/topics/seminar_9June2017_presentation.pdf
Raneri JE, Wertheim-Heck S. Healthy Diets from Sustainable Food Systems Initiative, Bioversity International Retail diversity for dietary diversity: Resolving food-safety versus nutrition priorities in Hanoi. In Food environments: Where people meet the food system. Pg: 61-69. UNSCN NUTRITION. 2019.
Wertheim-Heck, SCO, Raneri, JE.  (2019, February). Retail Diversity for Dietary Diversity Resolving conflicting priorities of food safety and nutrition for the urban poor in Hanoi, Vietnam.  Retrieved April 12, 2019, from https://www.docdroid.net/M66BXr8/policy-brief-retail-diversity-for-dietary-diversity-feb-2019.pdf .
Wertheim-Heck, S. C. O., Raneri, J., & Oosterveer, P. J. M. (2019). Food safety and nutrition for low-income urbanites: exploring a social justice dilemma in consumption policy. Environment and Urbanization.