Krystal Rampalli, MPH and Pepijn Schreinemachers, Ph.D. examine the benefits of combining school and home garden programs in Nepal.
As many low- and middle-income countries (LMICs) undergo substantial changes in food environments through modernization, concerns about obesity and diet-related non-communicable diseases compromising population health have been at the forefront of public health agendas (Popkin, 2001). While many nutrition-sensitive interventions have been proposed over the years with variable success, one of the more promising options are school and home gardens.
Over the last six decades, school gardens have gained significant traction in the health, agriculture, and education spheres in high-income countries (HICs). According to the Food and Agriculture Organization of the United Nations, school gardens have the potential to 1) show children how to grow a variety of nutritious foods, including vegetables, fruits, legumes, and raise livestock; 2) demonstrate to children and their families how to extend and improve diets with homegrown foods; 3) increase children's preferences for and consumption of fruits and vegetables; 4) enhance school meals with micronutrient-rich produce; 5) promote or re-establish horticultural skills in agriculture-dependent economies; and 6) foster entrepreneurial skills in the area of market gardening (FAO, 2010).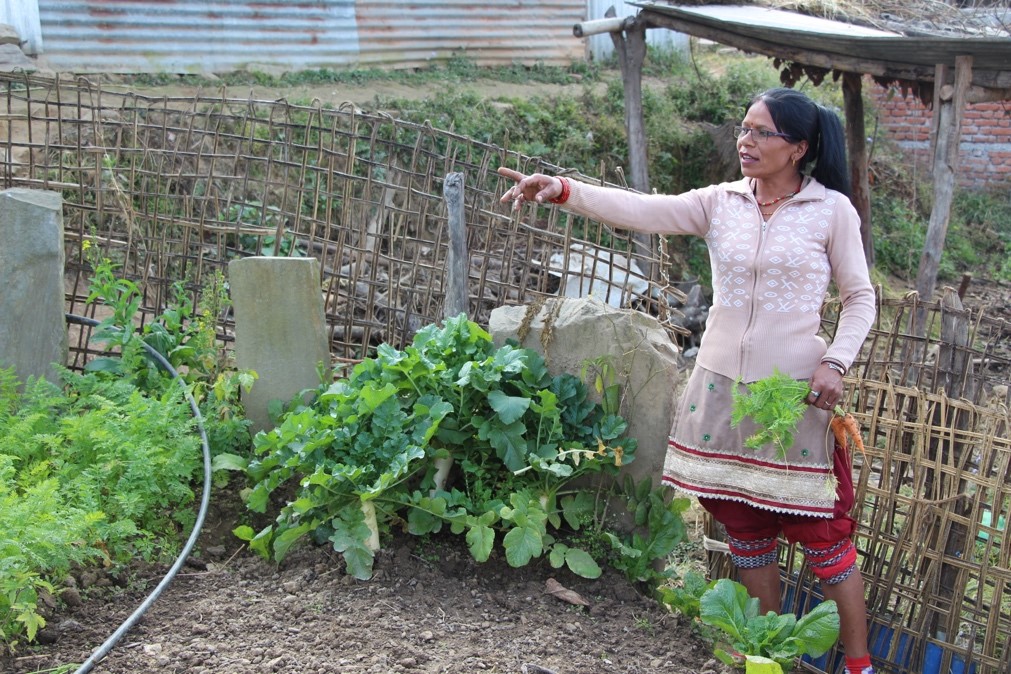 A proud parent shows her home vegetable garden. Photo credit: Pepijn Schreinemachers
The World Vegetable Center ('WorldVeg') has been working on expanding school garden programs in LMICs in Africa and Asia. According to WorldVeg, for school gardens to be successful at improving food choices and nutrition, they must be implemented with buy-in from the local community, and target not just the children, but the school staff and more importantly, parents. Additionally, hands-on gardening education programs in LMICs must take both environmental conditions and sociocultural context into account and create synergies between home and school (World Vegetable Center, 2017).
Currently, much of the existing body of evidence on the impact of school gardens in HICs and LMICs are anecdotal and the quantifiable effects of these programs on household-level health and nutrition indicators are limited (Schreinemachers et al., 2017; World Vegetable Center, 2017). Considering that 36% of Nepalese children are stunted and 27% are considered undernourished, with many more suffering from various micronutrient deficiencies, school and home gardening programs have the potential to change beliefs and practices around fresh fruit and vegetable consumption (USAID, 2018).
To try to gain a clearer understanding of the impact of school gardening programs on food choices and nutrition in Nepal, WorldVeg recently piloted a two-year cluster randomized controlled trial (RCT). The researchers hypothesized that school vegetable gardens combined with nutrition education would improve the food consumption habits and subsequent nutritional status of Nepalese schoolchildren ages 10-15 years old. A secondary hypothesis was that their intervention would help raise awareness and preferences toward healthier foods and sustainable agriculture, nutrition, and water, sanitation and hygiene (WASH) practices (Schreinemachers et al., 2017). For the intervention group, there were three major activities: 1) Creation of a school garden for students to cultivate nutritious vegetables, with mentorship provided by teachers and community members; 2) Health/agriculture education, focused specifically on gardening, WASH, and nutrition; 3) Promotional activities to reinforce the study's key messages. The study used a difference-in-differences estimator to find that there was a statistically significant (p<0.01) increase in the outcome indicators, particularly the intervention group's awareness and knowledge around agriculture, nutrition, and health, as well as self-reported preference for consuming fruits and vegetables (Schreinemachers, et al., 2017). However, the researchers found that those improvements did not directly correspond in actions toward consumption of fresh produce. They concluded that without intensive engagement of communities and families, especially parents, healthier food choices could not be achieved (Schreinemachers et al., 2017; World Vegetable Center, 2017).
A current Drivers of Food Choice Competitive Grants Program project funded by the Bill and Melinda Gates Foundation in partnership with the UK Department for International Development attempts to address this challenge. The project, titled 'Nudging children toward healthier food choices: An experiment combining school and home gardens' builds upon the prior WorldVeg RCT in rural Nepal (Schreinemachers et al., 2017). Through the use of mixed methods, the current study seeks to understand whether a combined gardening program with nutrition education implemented in schools with a component providing support for development of home gardens by parents will help families make better food choices and subsequently, improve diet quality. Fifteen primary schools where children are receiving nutrition education and gardening instruction on the school grounds were selected for participation in the intervention group. Concurrently, their parents receive instructions for how to set up a home garden. While neither curriculum is particularly novel by itself, the fact that teachers are educating parents and students in parallel to reinforce the concepts and practice makes this approach more powerful (Schreinemachers, 2019).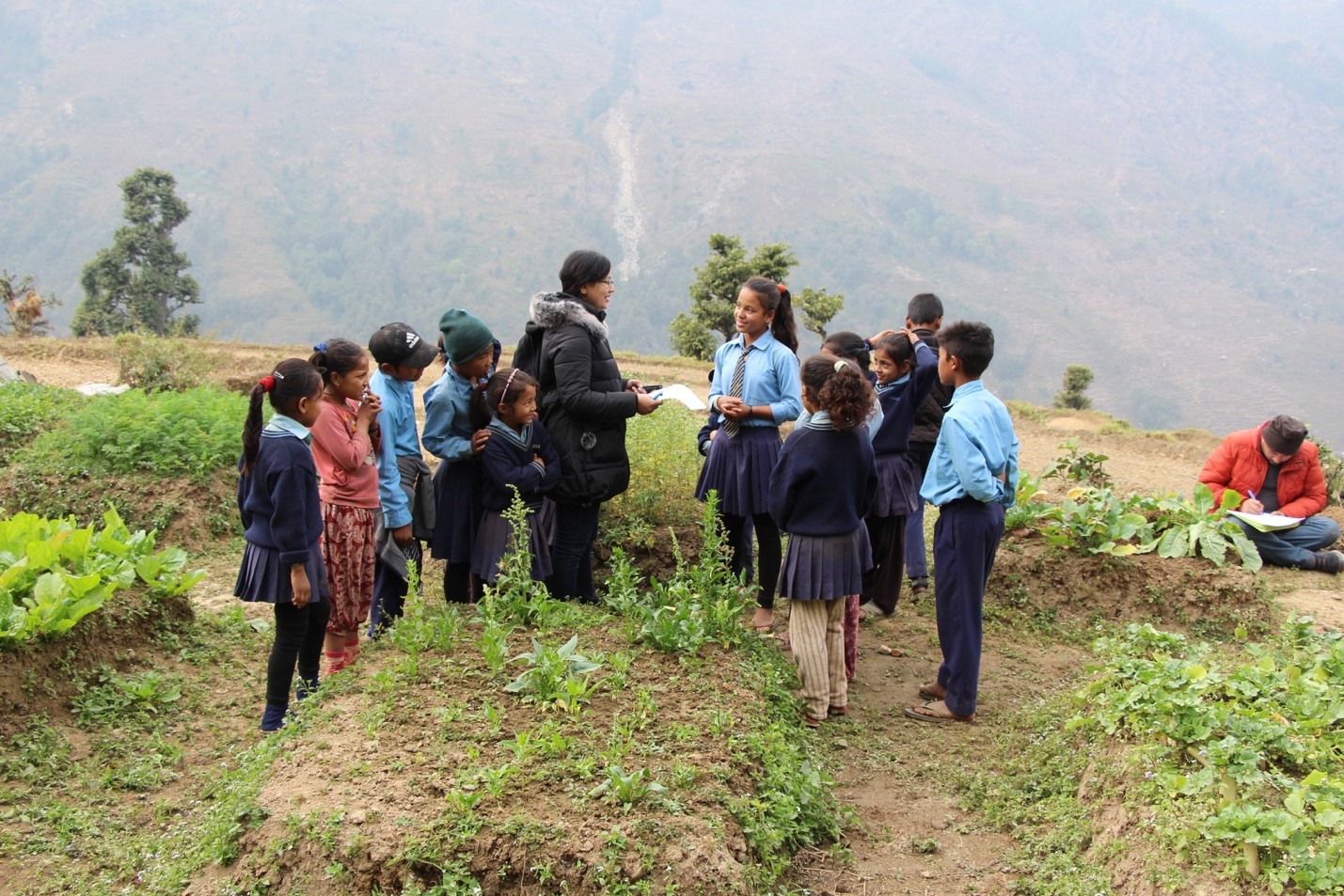 A WorldVeg team member interviews school children at a project site. Photo credit: Pepijn Schreinemachers
Enthusiasm about this project has increased since the launch. Students, their parents, and their teachers were interviewed for the qualitative component of this study. The parents reported an appreciation for the home garden consultation visits by their children's schoolteachers, while the teachers enjoyed the chance to teach their communities about agriculture and food and how to improve household dietary diversity. The kids themselves stated that the school and home gardening activities are fun and informative and shared the knowledge with their families. Families have learned to appreciate new types of vegetables to grow in their garden to enrich their diets.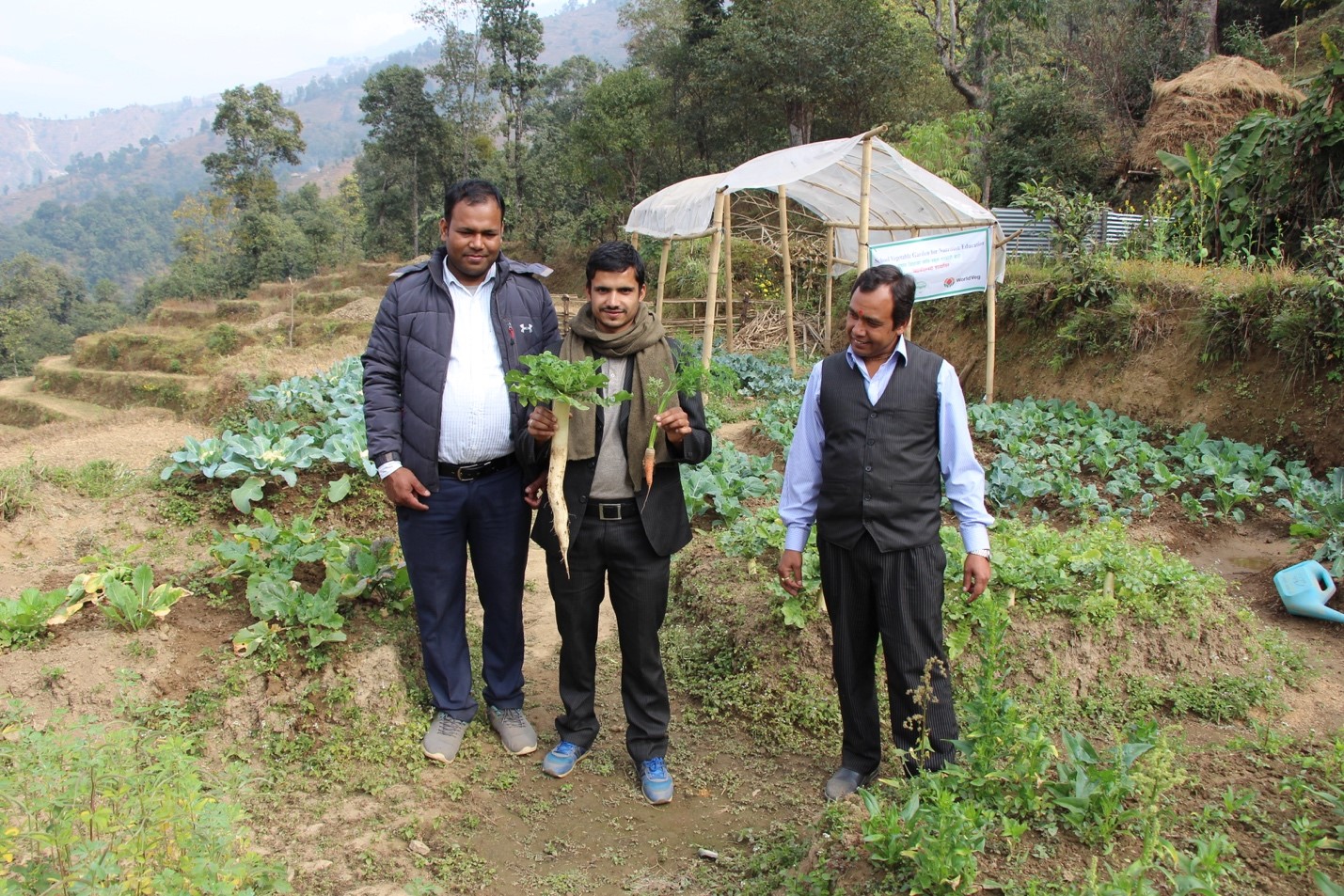 School teachers and a parent proudly display their produce. Photo credit: Pepijn Schreinemachers
Preliminary findings suggest that there is great promise for small home and school garden projects to foster changes in food choice behavior and improve dietary quality. The intervention is scheduled to end in June 2019 with final results available toward the end of 2019 (Schreinemachers, 2019).
Acknowledgements
This research has been funded by the Drivers of Food Choice Competitive Grants Program, which is funded by the UK Government's Department for International Development and the Bill & Melinda Gates Foundation, and managed by the University of South Carolina, Arnold School of Public Health, USA.
The "Nudging children toward healthier food choices: An experiment combining school and home gardens'" project is being delivered by the World Vegetable Center ('WorldVeg') in partnership with the Nepal Agricultural Research Council (NARC), the Asia Network for Sustainable Agriculture and Bioresources (ANSAB), and the Leibniz Institute of Vegetable and Ornamental Crops (IGZ).
Blog Contributors
Krystal Rampalli, MPH, is a Ph.D. student in Health Promotion, Education, and Behavior at the University of South Carolina's Arnold School of Public Health. She is a Research Assistant for the Drivers of Food Choice Competitive Grants Program.
Pepijn Schreinemachers, Ph.D., is Research Program Leader – Enabling Impact at the World Vegetable Center, based in Bangkok, Thailand.
References
FAO. (2010). A new deal for school gardens. Rome.
Popkin, B. M. (2001). The Nutrition Transition and Obesity in the Developing World. The Journal of Nutrition, 131(3), 871–873.
Schreinemachers, P. (2019). Garden interventions diversify vegetable production in Nepal. FRESH.
Schreinemachers, P., Bhattarai, D. R., Subedi, G. D., Acharya, T. P., Chen, H.-P, Yang, R.-Y,,, … Mecozzi, M. (2017). Impact of school gardens in Nepal: a cluster randomised controlled trial. Journal of Development Effectiveness, 9(3), 329–343.
USAID. (2018). Nepal: Nutrition Profile.
World Vegetable Center. (2017). School Gardens for Nutrition and Health.